For more than 30 years, Kwantlen Polytechnic University (KPU) has provided students with the skills they need for the careers they desire. KPU offers a variety of degree, diploma, certificate, bachelor degree and post-graduation programs with hands-on experience and experimental learning opportunities. KPU is connected to bus and metro in Vancouver! PDF about KPU.
More than 100 programs in which Overseas Frontiers can help you with registration and free consultation. KPU & Overseas Frontiers Promotion: SAVE $120 CAD registration fee if Overseas Frontiers do your registration!
Contact: carmenz@overseasfrontiers.com or WhatsApp: 1 204 6126941.
Graduate & Post-bacherol Diplomas (1.5 o 2 year) : Global Business Management, Green Business Management & Sustainability, Accounting, Supply Chain Management, Technical Management and Services, Technical Apparel Design, Bachelor Degree (3 a 4 ayears): Todas las carreras en Business, Design, Arts, Biology, Health Science, Mathematics, Physics, Science & Horticulture.
Associate Degrees(2 years): Faculty or Arts, Economics, General Science & Mathematics
Diplomas (2 years): Criminology, Accounting, Business Administration, Business Management, Computer Information System, Marketing Management, Fashion and Technology, Fashion Marketing, Traditional Chinese Medicine, Brewing and Brewery Operations, Computer Aid Design, Environmental Protection Technology, Horticulture Technology, Mechatronics and Advanced Manufacture.
Post-graduated Certificate (1 year): Criminology, Education Assistant, Accounting, Computer Information Systems, General Business, Legal Administrative Studies, NGO and Nonprofit Studies.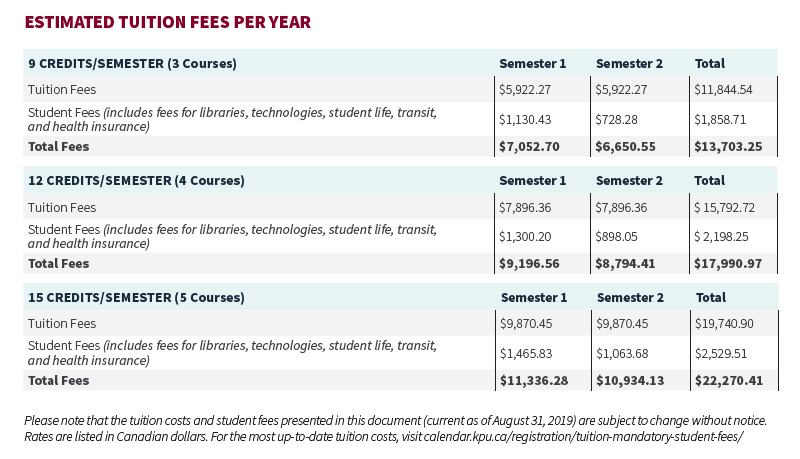 Video of the virtual conference with KPU to Latino students on June 12, 2020
Video of the virtual conference with KPU to Brazilian students on June 22, 2020